RACING SAFETY UNITED ALLIANCE
MANY MOTORSPORTS PARTICIPANTS. ONLY ONE MISSION.
Concussions are a serious issue in racing, plus many casualties and fatalities still regularly occur. And though new safety technologies are advancing, concrete, Armco and tire barriers haven't changed in 40+ years. Drivers continue to suffer TBIs and other life-threatening injuries, yet there's a blind spot when it comes to unforgiving walls as the primary cause. Losing Jim Fitzgerald to basilar skull fracture was the final straw for pro racer RJ Valentine. Since then, he's been on a quest to evoke track safety improvements. RJ's passion drove him to develop an alternative to outdated barriers, not as a business venture, but as a way to help protect racers from harm. He envisions a future where motorsports tragedies are rare, if not a thing of the past.
However, this can only be accomplished by a team effort. Drivers, sanctioning bodies, safety organizations, clubs, series, track owners, circuit designers, safety personnel, equipment manufacturers, coaches/HPDE groups, insurance companies, journalists and every other racing constituent play an important role. That's why a diverse group of safety advocates from across many sectors have united to form a collective and more impactful voice for the greater good of motorsports.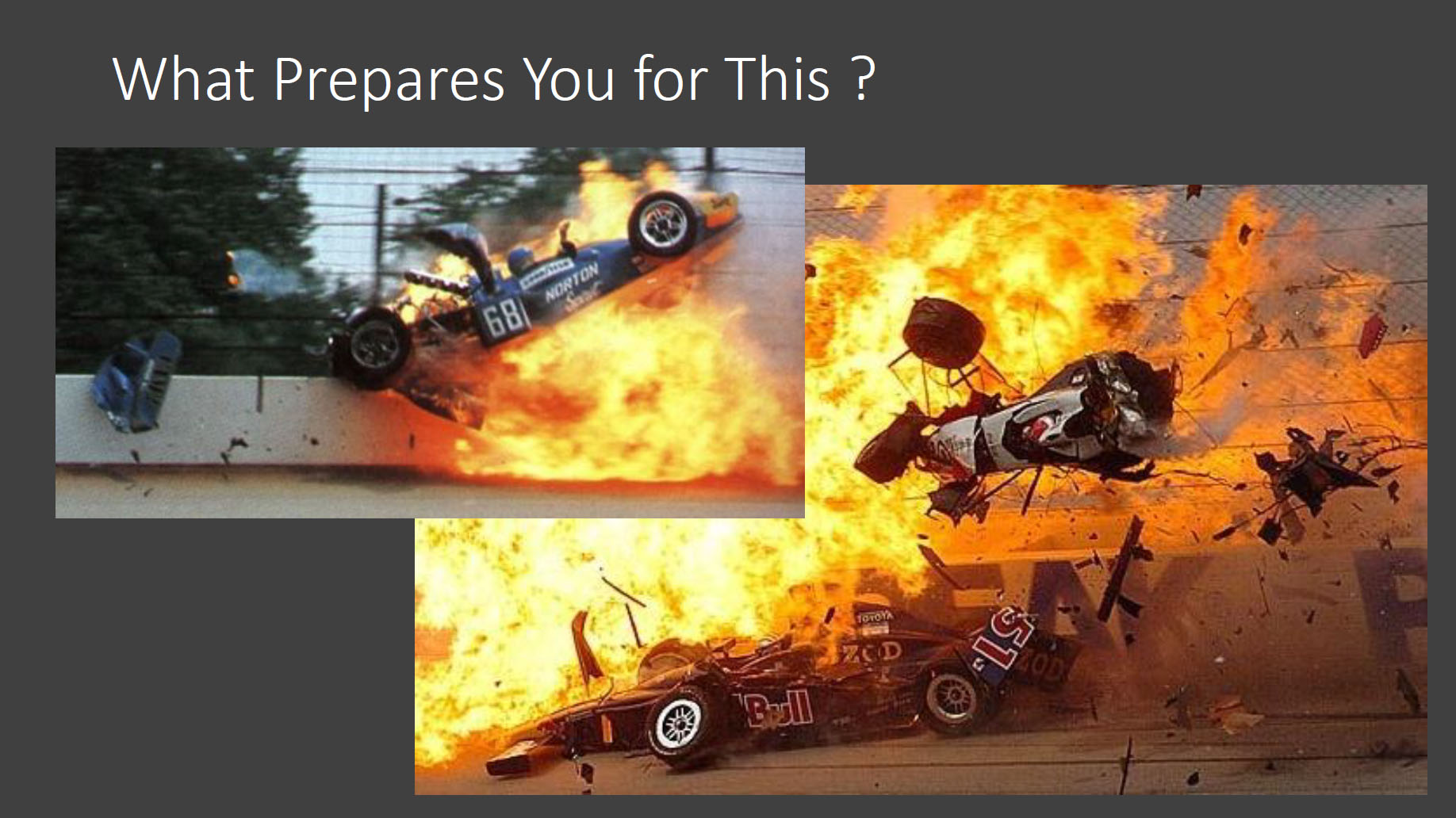 RACING SAFETY UNITED (RSU)
The working title for this unofficial alliance is Racing Safety United. RSU initially plans to focus on track safety, particularly the need for improvements at race courses and speedways nationwide. The first order of business is to raise awareness about antiquated walls as the root cause of many injuries or fatalities. As expenses can be a sticking point, RSU has already begun working on financial aid options for underfunded tracks in need of safety upgrades. Another immediate priority is to identify prevention techniques and treatment protocols for racing-related traumatic Brain Injuries (TBIs). Additional RSU initiatives include research surveys, educational outreach, seminars, track safety analyses, creating guides and resources like comparisons or buffering strategies, consulting on safety product development, and other programs. RSU's scope of services is expected to evolve as the group continues to expand.
Motorsports has many participants, but RSU has only one mission—To make racing as safe as possible, protecting lives and vehicles by reducing damage, injuries, concussions and casualties for drivers at all levels, and paving the way for the next generation.
RSU ADVOCATES
Independently, each RSU advocate is outstanding in their respective fields, and many are safety leaders in their own right. Together, they form a dynamic force campaigning toward a unified safety goal. In turn for supporting the group's racing safety cause, RSU will assist its advocates in furthering parallel safety initiatives, resulting in a cooperative ecosystem universally geared toward increasing driver protection.
Eric Bagdikian – Array Sports Motorsports Operations, Former CODE 3 Animal Disaster Response President, Retired Boulder County Sheriffs Reserve Lieutenant
Tom Baker – Race Chaser Media Founder / CEO, Race Chaser Radio Host
Dick Berggren – Racing Safety Journalist/Writer for multiple Motorsports Magazines, On-Camera TV Pit Road Reporter for 32 years, North East Motor Sports Museum President, Champion Sprint & Stock Car Driver
Mike Brockman – Previous Motor Trend Road Test Editor for 13 Years, Former Pro Racer & GT Class Winner at 24 Hours of Daytona, Connecticut's Own Volvo Dealer CEO
Kevin Butterfield, D.C. – BrainForest Center Founder/CEO, Wellness Racing Corporation Founder/CEO, Creator of AvOID & ReTINA systems, Cortical Impact Solutions Founder/CEO, Motorsports Safety Blogger
Preston C. Calvert, M.D. FAAN – Pirelli World Challenge Medical Advisor, Johns Hopkins University School of Medicine Asst Professor, Neuro-ophthalmology Consultant, Champion Racer, Author, Former U.S. Army Medical Corps Major
Joe Chisholm – Race Time Radio Owner/Host, Eastbound International Speedway Race Director
Michael Cummings – Port Imperial Racing Assoc CFO, Grand Prix of America Formula One Promoter, Motorsports Capital Founder - Financial Advisory/Capital Placement, SCCA Nat'l Competition License Holder
Eric Curran – Pro Racer for 20 Years, West Coast Exotic Cars Corp Principal, Race Track Owner
Dr. Julia Daly, PT, DPT, ATC – Athletic Trainer, Physical Therapist, Motorsports Performance Specialty, Public Speaker, Creator of Return to Competitive Race Car Driving after Concussion
Larry Dixon - 3-Time NHRA Top Fuel World Champion, Team Owner, Spokesperson
Charlie Frank – The Activation Group (TAG) Partner, Motorsports Event Marketing for BMW, NASCAR, Indy Car & Others, Former Racecar Driver
John Gorsline – The Gorsline Company CEO, Driver Protection Insurance, Family Assistance, Scholarships & Logistics Support
Jay Heid – Summit Midwest Drag Founder/Promoter, ProQ Motorsports Events Management Software Founder, MotorsportsDirectory.com Founder (Motorsports Safety Foundation Partner)
Ian James – Champion Pro Racer, Ambassador for The Heart of Racing
Randy Lajoie – Safer Racer Founder, Former NASCAR Champion Driver, The Joie of Seating President
Darren Law – Flying Lizard Motorsports Championship Sportscar Racing Team Owner, Former Pro Racer
Chuck Lessick – IndyCar Ministry Chaplain, Former Belardi Auto Racing Team Manager & Indy Lights Crew Chief, Owner & Driver in USF2000 Series
Dennis Michelsen – DMIC Media & Marketing Owner, Race Track Business Conference Moderator & former Aviation Meteorologist
John Mills – SCCA GT3 Pro Racer, Race Car Fabricator, TBI Advocate & Survivor, Public Speaker promoting Brain Injury Awareness, Motivation and Inspiration
Jerry Nadeau – Monster Energy Cup Series Winner, 5-Time Barber Dodge Pro Series Winner, $100,000 Big Scholarship Winner, Former Teammate to Jeff Gordon & Jimmie Johnson
James Penrose – Former FIA Driver Safety Environment Consultant, Initiated FIA 8860 Helmet & Hans introduction to F1 & FIA Series, Penrose Safety Drivers/Teams Consultancy for Audi WEC, Level 5 & others
Andrew Pilgrim - TSEF.org Traffic Safety Advocate/Public Speaker, Pro Race Driver, Automobile Magazine Contributing Writer
Randy Pobst – Motor Trend Track Test Driver, SCCA Sports Car Magazine Columnist, Champion Pro Racer
Don Schumacher – NHRA Team Owner, Former Champion Funny Car Driver, Motorsports Hall of Fame of America Inductee, Concussion Legacy Foundation Brain Research Donor
Mike Semel – U.S. Grand Prix Retired Fire Chief, Watkins Glen International Safety Director, CART IndyCar Safety Team Member
Bobby Seymour – Seymour Performance Products CEO, Former USAC Champion Driver, Racer's Expo Co-Founder
Lori Sheppard, RN – Registered Nurse for over 35 Years, Sheppard Consulting Services Track & Driver Safety Resources Founder, Former NASCAR Senior Director, Medical Liaison, & IMSA Medical Liaison Program Creator
RJ Valentine – Champion Pro Racer, Race Track Owner, Impact Safety Systems Founder, Serial Entrepreneur
Bentley Warren – One of his Generation's Most Decorated Short-Track Drivers, 7-Time New York Oswego Speedway Champion, 4-Time ISMA Series Champion, 2-Time Little 500 Winner, Indy 500 Veteran
Dicken Wear – ASRA & GTCARS Nat'l Chief of Tech & Safety Regulations, SCCA, BMWCCA, IMSA, CART Former Tech Steward/Scrutineer, The Motorsports Report Editor-in-Chief, Rt 66 Street Drags, Inc. CEO
Thomas Woods – Veteran, Warriors on Track Founder, Former Brain Treatment Center Military Care Coordinator for MeRT (Magnetic e-Resonance Therapy), Racer
Kip Zeiter – International Motor Racing Research Center (IMRRC) Outreach Coordinator


JOIN RSU TODAY!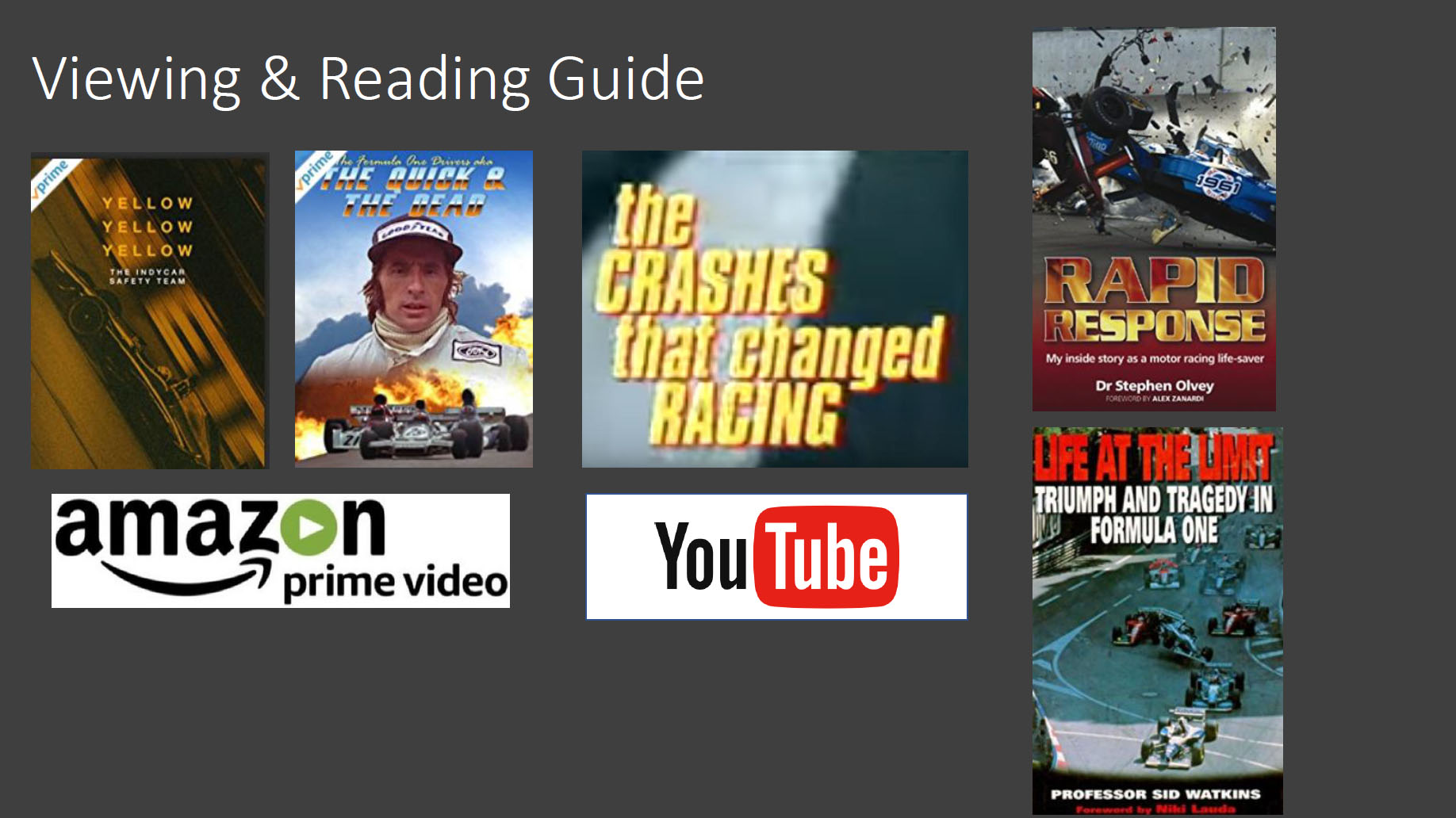 FOR MORE INFORMATION, CONTACT ATEAM@ACONSORTIUM.NET
Like RSU on FACEBOOK: