More Applications
ISS is the standard in superior protection for people and profits.
TOP 6 GOALS: Reduce Injuries and Damage; Save Time and Labor; Increase Versatility and Coverage, Decrease Replacement Costs; Lower Expenses; Improve Presentation
Why ISS Safety Barriers make financial sense for almost any application.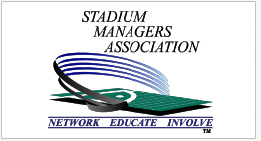 ISS Safety Barriers are one of the lowest cost systems available today—About 18% less than the cost of concrete jersey barriers including labor and materials
ISS Barriers can raise safety ratings, which may lower insurance premiums
ISS is the only barrier system that can be arranged in literally any configuration, including curves and 90-degree angles, for maximum flexibility of use
Extremely lightweight with plug-and-play connections, ISS Barriers are the easiest system to assemble or remove—One thousand linear feet or 250 ProLink Barriers can be deployed by 2 workers in only one day, saving time and labor
ISS Barriers are also stackable to almost any height for efficient storage and transport, and are designed to accommodate a fork-lift if needed
Made from stronger, thicker composite plastic (in some cases twice as thick as competitors), with exclusive impact ridges to reinforce structural integrity and a modifiable ballast system that also increases durability, ISS Barriers are tough enough to last, substantially reducing replacement costs
ISS Barriers are specifically designed to support advertising and sponsorship banners, which generates additional income
ISS Barriers can be customized with graphics, embedded logos, and come is a full range of color combinations to coordinate with company branding
ISS Barriers offer bright colors and directional signage options, which help raise visibility in key areas, further increasing protection
ISS Barriers come in large and small versions for permanent or temporary, indoor and outdoor applications of all types
Stadiums and Arenas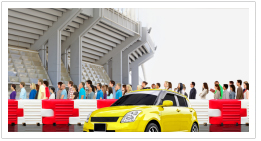 Controlling crowds, traffic or parking at a stadium, arena or sports field is a big job. Traditional solutions like concrete Jersey barricades are labor intensive to install or move, and offer very little flexibility, while inferior quality traffic barriers provide less protection and require constant replacement. ISS Barriers are the only system that improves safety for vehicles, attendees and athletes, provides clear zones and directions, while being fast and easy to move, install, reconfigure or store for concerts, games or any other event.
Airport Safety Barriers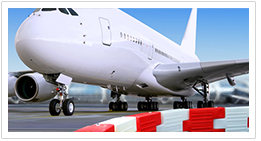 Today, both large and small airports confront greater safety and security challenges than ever before. On the tarmac, multi-million dollar assets are moving in the same areas as people and smaller equipment. Visitor traffic and crowds in interior spaces must be strictly controlled. ISS Barriers are the only system that improves safety and security, while being fast and easy to deploy as both permanent and temporary barricades, and flexible enough to reconfigure for constantly changing conditions.
Mining Safety Barriers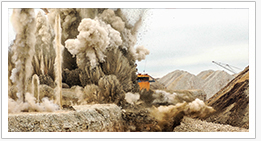 Open pit mines are among the most dangerous jobsites on the planet, with critical periods when explosions rock the landscape. Keeping mine workers and their heavy equipment safe can be a mine owner's greatest challenge. But when ISS Barriers are filled with a heavy water ballast, nothing works better to delineate a blast zone or keep dangerous areas off-limits. Unlike concrete Jersey barriers, they are fast and easy to move, install, reconfigure and store. And unlike typical traffic barriers, they provide clear zones and directions, keeping traffic away from high risk areas.
Construction Safety Barriers
Virtually every jobsite uses safety barriers to cordon off unauthorized personnel and vehicles, direct site traffic, define construction or trade areas, and protect workers. The safer a jobsite is, the better it is for tradespeople, clients and contracting firms. ISS is the only construction barrier system that improves safety, while being fast and easy to move, install and reconfigure at a moment's notice, thus solving the challenges posed by a site on a heavily travelled roadway where conditions change almost every day.
Additional Applications
Highway and Roadway Construction and Directions
Temporary Security
Athletic Facilities and Sports Fields
DOWNLOAD


Your Free Impact Safety Systems Brochure
Fill up this form to download: