Athlete Safety
SoftLink is the standard in superior protection for Athletes.
TOP 6 GOALS: Reduce Injuries and Damage; Save Time and Labor; Increase Versatility and Coverage, Decrease Replacement Costs; Lower Expenses; Improve Presentation
Why ISS SoftLink Safety Barriers protect Athletes so well.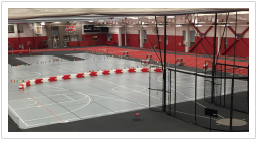 SoftLink Safety Barriers were specifically developed to protect athletes and spectators based on the same innovative design as ProLink Barriers, but in a softer material for a cushioned landing
SoftLink Safety Barriers are designed to be forgiving, absorb energy and slow momentum when competitors hit them, thus minimizing the severity of injuries, shielding spectators and reducing damage to sports equipment
SoftLink's unique linking system keeps the barriers from scattering when hit and anchored pins provide additional stabilization
SoftLink is one of the only barrier systems that offers ballast modification for varying levels of resistance, when filled with water or sand, to provide optimum protection at every location
SoftLink Barriers offer bright colors and directional signage options, which help raise visibility in key areas, further increasing protection
Why ISS SoftLink Safety Barriers make financial sense.
SoftLink Barriers are one of the lowest cost systems available today—About 1/3 of the cost of foam stopping boards
SoftLink Barriers can raise safety ratings, which may lower insurance premiums
ProLink Barriers are tough enough to last from event to event, substantially reducing replacement costs
SoftLink is the only barrier system that can be arranged in literally any configuration, including curves and 90-degree angles for maximum flexibility of use
Extremely lightweight, with plug-and-play connections, SoftLink is the easiest system to assemble or remove with minimal manpower—just 2 workers can do the job—saving time and labor
SoftLink barriers are also stackable to almost any height for efficient storage and transport, and are designed to accommodate a fork-lift if needed

Made from stronger, thicker composite plastic (in some cases twice as thick as competitors), with exclusive impact ridges to reinforce structural integrity and a modifiable ballast system that also increases durability, SoftLink Barriers are tough enough to last, substantially reducing replacement costs
SoftLink Barriers are specifically designed to support advertising and sponsorship banners, which generates additional income
SoftLink Barriers can be customized with graphics, embedded logos, and come in a full range of color combinations to coordinate with facility branding, so they appear cleaner, more up-to-date and attractive on camera
Applications
Athletic Facilities and Sports Fields for Player and Spectator Protection in Hockey, Baseball, Soccer, Football, Lacrosse, Shot Put or many other Sports
Permanent or Temporary Applications for Boundary Delineation, Sidelines or to safely divide playing areas for multiple practices or activities at once
Motorcycle and Bike Exhibitions, X-game Competitors and More
Specs
Constructed of Rotationally Molded Composite Polyethylene
UV Stabilized and Weather Resistant
Overall length including Knuckle 79"
Pin to pin length 48"
Height 40"
Width 24"
Composite Thickness ½"
Weight: Empty - 23 lbs. Ballast weight varies depending on amount of water or sand added in 1" to 1-1/2" increments

We love the barriers as an efficient and effective safety measure to keep throwing implements inside the competition area. Our needs require us to set up and break down the barriers every practice session and this is done easily and quickly with as few as 3 people.

Michael Gusbeth
Colorado School of Mines
DOWNLOAD


Your Free Impact Safety Systems Brochure
Fill up this form to download: