Motorsports Safety
ProLink is the standard in superior protection for motorsports.
TOP 6 GOALS: Reduce Injuries and Damage; Save Time and Labor; Increase Versatility and Coverage, Decrease Replacement Costs; Lower Expenses; Improve Presentation
Race Track Challenges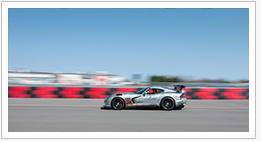 Race tracks present an extremely complex safety challenge. They need a barrier system that minimizes damage to drivers and vehicles moving at high speeds, but is also affordable to install and quick to repair, so events are not unduly delayed. Tracks also need a barrier system that is strong enough to withstand hard hits, but malleable enough to give, move and dissipate g-force energy to mitigate impact. Ideally, the barrier system should be able to conform to any track design, while also offering color-coordinated branding and the option to display advertising banners or directional signage. Tough criteria, but a solution does exist.
ISS PROLINK BARRIERS - A Better Safety Barrier Solution.
Impact Safety Systems (ISS) ProLink Barriers were developed based on the same energy absorbing FEA approved technology as its KISS barriers. In-depth safety testing and collision-impact research was conducted to establish the original barrier design dynamics, determine thickness of material and strongest surface type. Since applying this approach to ProLink Barriers, the system's ability to dissipate impact forces has been tested and proven time and again in live scenarios at racetracks and motorcycle test tracks around the globe.
Perhaps the most valuable proof of performance any barrier manufacturer can offer is customer satisfaction.
To date, every ProLink track customer has reported high-speed hits resulting in minimal barrier deformation, very little damage to vehicles and, uppermost, drivers walked away unharmed.
Why ISS ProLink Safety Barriers protect racers so well.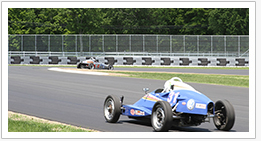 ProLink Safety Barriers are designed to yield on impact, progressively retarding vehicle speed and cushioning the shock so there's less likelihood of blunt force trauma to drivers or major damage to vehicles
On severe impacts, the cumulative pull of the connected barriers creates a "snaking effect," collectively causing deceleration. When buffering, ProLink keeps drivers from reaching a permanent hard wall
ProLink's unique linking system holds the barriers in place when struck and keeps them from scattering, which minimizes hazardous debris
Anchoring pins provide additional stabilization that reduces bounce-backs into traffic, lowering multi-vehicle collisions
ProLink is the only barrier systems that offers ballast modification for varying levels of resistance. Ballast can be adjusted based on impact load, speed and weight of vehicles at different locations on a track when intermittent barriers are filled with sand or water
Exclusive ballast system also increases stability and makes vehicles less likely to submarine beneath the barriers
ProLink Safety Barriers are engineered to soften angular hits, as well as frontal/head-on, and should be considered the first line of defense as a buffer before permanent barricade walls
ProLink Barriers balance elasticity and durability so impact is absorbed and dissipated throughout the connected barriers with very little wall deformation, cracking, breaking or shattering
ProLink Barriers offer bright colors and directional signage options, which help raise visibility in key areas, further increasing protection
Because ProLink is the only Barrier Systems that's versatile enough to be used in any configuration, it provides total protection for drivers everywhere on a track, including filling coverage gaps where other barricades can't
Why ISS ProLink Safety Barriers are so adaptable with less labor.
ProLink is the only barrier system that can be arranged in literally any configuration, including curves and 90-degree angles, or either direction of travel for maximum flexibility of use
Extremely lightweight with plug-and-play connections, ISS ProLink is the easiest system to assemble or remove—One thousand linear feet or 250 ProLink Barriers can be deployed by 2 workers in only one day, which saves time and money
If a barrier replacement is ever required, it takes just 1 worker less than 10 minutes to do the job, resulting in faster crash clean-up and reduced race delays
ProLink Safety Barriers are conveniently stackable to almost any height for efficient storage or transport, and are designed to accommodate a fork-lift if needed
Why ISS ProLink Safety Barriers last longer.
ProLink Safety Barriers are rotationally molded from UV stabilized, weather-resistant composite polyethylene plastic with advanced ribbed wall construction
Made from stronger, thicker composite plastic (in some cases twice as thick as competitors), ProLink Barriers stand up to repeated high speed hits
ProLink's exclusive impact ridges are designed to increase structural integrity and make the barriers less vulnerable to deformation, scuffing or marking
ProLink Safety Barriers have a proven track record of durability with no warping, bowing, cracking, breaking or shattering
The tongue and groove connections are secured with a unique anchoring pin to ensure a flush fit. If pins are damaged during severe impact, they are easily replaced at minimal cost
When intermittent blocks are filled to 25% with water, ProLink Barriers weigh approximately 500 pounds each making them virtually indestructible
The best proof of durability is the low number of broken barrier replacements ordered by ISS customers, which translates to lower replacement costs for tracks. For example, The University of Houston Law Enforcement Driver's Training Facility has used ISS Barriers for over 5 years without any replacements to date
Why ISS ProLink Safety Barriers make financial sense.
ProLink Safety Barriers are the lowest cost system available today—Only about $70 per linear foot including installation and water
ProLink Barriers can raise track safety ratings, which may lower insurance premiums
ProLink Barriers are completely portable, easy to transport, fast to install, and simple to store, which saves time and labor
ProLink Barriers are tough enough to last from event to event, substantially reducing replacement costs
ProLink Safety Barriers are specifically designed to support advertising and sponsorship banners, which generates additional income
ProLink Safety Barriers can be customized with graphics, embedded logos, and come in a full range of color combinations to coordinate with track branding. Tracks appear cleaner, more up-to-date and attractive on camera
Specs
Constructed of Rotationally Molded Composite Polyethylene
UV Stabilized and Weather Resistant
Overall length including Knuckle 79"
Pin to pin length 48"
Height 40"
Width 24"
Composite Thickness ½"
Weight: Empty - 73 lbs. Ballasted – Approx. 500 lbs. filled to 25% with water
Applications
Race tracks – Road Course Infields, Short Tracks, Ovals and Motorcycle Tracks for barricades, buffering, staging and paddocks
Temporary Tracks – On asphalt, indoors or out, for Autos, Motorcycles, Bicycles or Trucks
Vehicle Manufacturer Demos
Gymkhanas – Replace cones to clearly delineate course for better driver line of site, as well as adding signage directions and branding on barriers
Motorcycle Tracks - Road Racing, Motocross, Supercross, Off road Racing, Short Track, Speedway, Cross Country, Enduro and Test Tracks
Stadiums, Sports Fields, Athletic Facilities – Extreme sports, Special Events, Concerts and more for athlete protection, crowd control, traffic management, pedestrian and spectator safety
Highways, Roads, Airports, Job Sites, Mines – For clear zones, boundary delineation, traffic management and directions for vehicles, equipment, personnel and public safety

Both organizations share the same NY State Fairgrounds track and, about 7 years ago, we looked at all available barriers options to replace tires. When we saw how easy and quick KISS Barriers were to install or repair during a race, we knew they were the best solution. Now, the entire track is lined with KISS, as well as the infield pit area, plus the USAC uses them for sanctioned events at parking lots. Tires would throw cars back on track but, the way KISS barriers absorb energy, slow cars down and reduce damage. We've only reordered replacements a few times over the years, yet the price is always reasonable. KISS does a really good job keeping costs in check. Our quarter midget groups were one of the first to adopt KISS Barriers, but now more and more tracks are converting all the time.

Tom Wilcox – President
USAC SYRACUSE QUARTER MIDGET CLUB & MICROD CLUB



Many quarter midget tracks use KISS Barriers. Even so, we researched other options for The Quarter Midget Club, which runs many races on our high-banked oval course, but still chose to go with KISS in the end.

Dale Gross - President
Little T Speedway

We had a member hit a barrier while he was driving the track in his Porsche. To everyone's pleasure, the extra layer of safety kept damage to a minimum.

Tim Rogers
The Thermal Club
DOWNLOAD


Your Free ProLink Brochure
Fill up this form to download: