Karting Safety
KISS is the standard in superior protection for kart racing circuits.
TOP 6 GOALS: Reduce Injuries and Damage; Save Time and Labor; Increase Versatility and Coverage, Decrease Replacement Costs; Lower Expenses; Improve Presentation
Why ISS KISS Barriers protect Karters so well & last so long.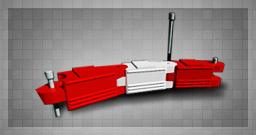 When developing Kart Impact Safety Systems (KISS) Barriers, ISS conducted in-depth Finite Element Analysis (FEA) track safety studies, testing at speeds ranging from 40 mph-80 mph in various configurations
This collision-impact research and analysis established the best barrier design dynamics, as well as the thickness of the polyethylene construction material, which is twice as thick as most competitors
Additional testing of different surface types determined that adding "impact ridges" on each side made the barriers much stronger and less vulnerable to deformation, scuffing or marking than a traditional flat surface
The results defined the best balance between durability and elasticity for maximum impact absorption and dissipation throughout the connected barriers, ensuring driver safety and minimizing kart damage
KISS is the only barrier system that offers ballast modification for varying levels of resistance. Ballast can be adjusted based on impact load, speed and weight of karts at different locations on a track when intermittent barriers are filled with sand or water, while also making them less subject to submarining
KISS offers bright colors and directional signage options, which help raise visibility in key areas around the track, further increasing protection
FEA BUFFERING TESTS
The Finite Element Analysis (FEA) test verified that a hollow barrier with two buffers will handle a direct hit by a kart going 40 MPH. The KISS barrier exceeded those specifications and set a new standard with impact absorption at kart speeds of up to 80 MPH with a yield of 3700 PSI range resulting in minimal deformation when in a three-buffered configuration. The buffers also help keep karts from bouncing back into traffic, potentially causing multiple collisions.
Why ISS KISS Safety Barriers are so adaptable with less labor.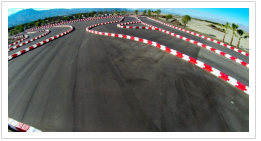 KISS is the only kart barrier system that can accommodate a minimum radius of three feet and be arranged in literally any configuration, including curves and 90-degree angles, or either direction of travel for maximum flexibility of use
Extremely lightweight with plug-and-play connections, KISS is the easiest system to assemble or remove with minimal manpower
If a barrier replacement is ever required, it takes just 1 worker less than 10 minutes to do the job, resulting in faster crash clean-up and reduced race delays
KISS Barriers are also conveniently stackable to almost any height for efficient storage or transport
Why ISS KISS Safety Barriers make financial sense.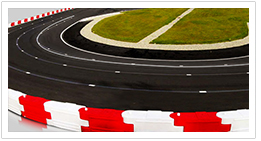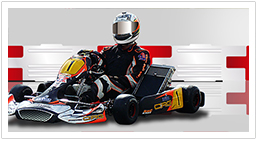 KISS Barriers are the lowest cost system available today
KISS Barriers can raise track safety ratings, which may lower insurance premiums
KISS Barriers are completely portable, easy to transport, fast to install, and simple to store, saving time and labor
Made from stronger, thicker composite plastic (in some cases twice as thick as competitors), with exclusive impact ridges to reinforce structural integrity, and a modifiable ballast system that also increases durability, KISS Barriers are tough enough to last, substantially reducing replacement costs
KISS Barriers are specifically designed to support advertising and sponsorship banners, which generates additional income
KISS Barriers can be customized with graphics, embedded logos, and come in a full range of color combinations to coordinate with track branding. Tracks appear cleaner, more up-to-date and attractive on camera.
Case Study – MB2 Raceway
MB2 Raceway is considered the largest track expansion today, with a chain of indoor karting tracks nationwide. MB2 originally invested in two other plastic barrier brands but, due to their ultra-thin sidewalls and extended length, the barriers were easily bent or bowed, sometimes causing them to pop-up on impact, and there was an inordinate amount of breakage and shattering, leaving sharp edges exposed. Plus, the barriers were difficult to replace as staff had to repeatedly restring two sets of webbing to connect them. After an intensive search to find a better plastic barrier solution, KISS barriers were subjected to months of grueling track tests with high-impact kart crashes at speeds of up to 45 MPH. The results proved that KISS barriers were extremely durable—no warping, cracking, breaking or shattering—and because the barrier sidewalls were shorter in length and twice as thick as others, they prevented bowing and would push in instead of pop up, all of which contributed to improved driver safety. MB2's signature red and black image is now reflected in the KISS barriers that protect their many challenging courses.
Applications
Indoor and Outdoor Kart Tracks
Permanent and Temporary Configurations
Off-site Karting Events in Parking Lots or on City Streets
Motorcycle Test Tracks
Specs
Constructed of Rotationally Molded Composite Polyethylene
UV Stabilized and Weather Resistant
Overall length 53"
Pin to pin length 39"
Height 20 15/16"
Width 16"
Composite Thickness ½"
Weight: Empty - 23 lbs. Ballasted – Approx. 70 lbs. filled to 25% with water

KISS Barriers have been a great solution for us because we can set up and tear down quickly and without a great deal of manpower. I don't think there's a better kart safety barrier.

Tony Schroeder
General Manager
Homestead Karting

The KISS Barrier variable tension system allows us to easily customize the safety barriers for different segments of the track. It's easy to add more resistance for the slower stretches and adjust others for more forgiveness in the faster areas of the track. Also, KISS Barriers use a locking pin system to connect them and build the barrier string. It's quick to replace and reposition the barriers after an incident. T-his not only makes competitors happy, it's important for our bottom line.

Greg Slaton, General Manager
Pole Position Raceway

KISS is a superior barrier system. They've been tested and proven with our tracks to be easier and safer overall. One of the other key advantages is that they're simple to reposition using the connecting pins, which allows us to easily change track configurations and offer new kart racing experiences.

Chris Browning, General Manager
MB2 Raceway
DOWNLOAD


Your Free KISS Brochure
Fill up this form to download:
ISS offers Comprehensive Kart Track Design Support through its Designer Affiliations