More Testimonials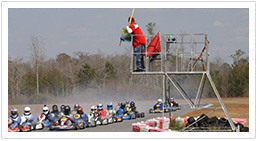 We are a competitive kart racing track that runs local, regional and national series with sanctions like WKA and AKRA. Many years ago, we invested in KISS Barriers from Impact Safety Systems because we wanted a solution that would move when hit. The barriers do a good job of absorbing impact, which I can attest to since I've personally hit them. They're also easy to reposition when change the track direction.
MONTICELLO KARTING CENTER
Andrew Scott – General Manager
---
As an expert on karting, I was brought in to design the new track. Initially, KISS Barriers were used at the Skid Pad, but when we built the one kilometer track, I used KISS to protect Armco guardrails, which line the whole course, also for pit in and pit out walls, as well as a second safety layer inside another barrier system at intersections and high impact areas. We even used KISS to mount lighting and protect the electrical boxes. KISS Barriers are so easy to replace and have worked great for many years.

VIDEO
MONTICELLO MOTOR CLUB
Nat Mundy - Kart Track Designer
---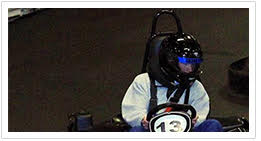 Originally, we rented two miles of KISS Barriers for a Stanford outdoor race, then later purchased them for our indoor kart track. We use KISS at trouble spots and for pit in and pit out when we change the track since the barriers are much easier to move. KISS Barriers look good and add more visibility for turns. After 7 years, the KISS Barriers are still holding up but, even If one breaks, it's quick to replace with the pull of a pin, versus other barrier systems that require more labor or can cause the track to be down for an extended time."
GRAND PRIX NEW YORK
Nat Mundy - Executive Vice President
---
We originally used tires as barricades but, when karts hit them it created heat that made the tires sticky, which sucked karts in. We needed an alternative that was also cleaner, easier to reset after an accident, and looked nicer too. Other barrier brands didn't match our criteria, but the KISS Barriers did. They don't track debris like tires and our year-round track has only seen about 10% breakage since 2012. I love the looks too — We get compliments all the time!
PLAYTIME FAMILY FUN
Mike Doolittle
---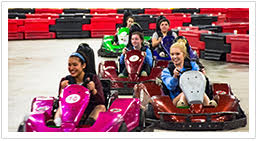 I visited quite a few other facilities while designing our new indoor go-kart track and researching barricades. Although many used tires, which is like hitting a brick wall, other tracks had KISS Barriers and were very positive about them. The more I looked, the more I knew KISS was the superior solution. With my degree in physics and engineering, I appreciated their energy absorption technology. KISS has been instrumental in keeping guests safe and reducing the chances of whiplash. I also appreciated how much less expensive they were than other similar systems on the market.
THE WEB EXTREME ENTERTAINMENT
Jerry Weber
---
We originally used tires in key spots on our outdoor track, but karts sometimes submarined or were severely damaged. Several other track owners said KISS Barriers were the best for safety, and they last longer without cracking, unlike other barricades on the market. Now, when karts hit the KISS Barriers in high-speed areas, there's a lot less damage and, so far, there's been no breakage. John personally hit them going 50mph, causing the barriers to move 30-feet, yet his kart was fine and he was able to keep racing.KISS is competitively priced and super easy to set up. They make the track much safer and look good too.
HILL COUNTRY KART CLUB
John Mueller & Doug Foxworth
---
After KISS sent us a free sample of their barriers to review, we ended up ordering more and more. We really like how the barriers wrap around karts without separating and slow them down. Plus, KISS Barriers are easy to move when we change track configurations. And, with enhanced UV protection, the barriers have held up well for years in the harsh Florida sun without breaking. We recently tested another plastic barricade brand, but aren't happy with the way they easily blow apart on impact. We plan to replace them with KISS Barriers soon.
OCALA GRAN PRIX
Troy Mitchell
---
The Sodi RX8 karts are much faster and we wanted a barrier that would be a safer alternative to tires and steel rails. Also, we considered ease of repair; if for some reason a barrier was broken we wanted an option that would get the track operating again as quick as possible. We went to a couple places and saw the barrier systems they were using and determined the KISS barrier system best fit our criteria.
Pro Track at Grand Prix Amusements
Valerie Kramer - General Manager
---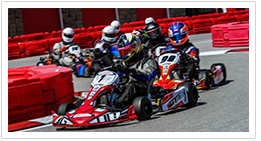 KISS was one of three barrier manufacturers we considered for our outdoor track extension. We went with the KISS system because we wanted barriers that were movable, absorbed impact energy, and offered ballasting stability. The KISS barrier system offered a cost-efficient option with a very simple install and without any compromise on driver safety. The barriers are doing their job and, so far, there've been no signs of abnormal wear. These barriers have fit our needs perfectly and I would absolutely make the same purchase again.

SEE VIDEO
Boss Pro Karting
Lee Boss – Vice President & Owner
---
When we were first planning our new concrete oval go-kart track, we considered used tires as barriers. But, after researching, we found KISS barriers, which look much nicer and will last for years. KISS does a great job keeping karts from going off track.







Backyard Raceway
Ricky Strickland - Co-owner
---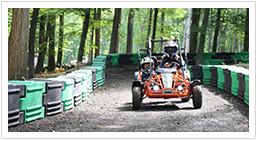 Every year we add features to our facilities and recently we opened a new go-kart track. Safety is our #1 concern, so I did a lot of research on several barrier options and checked other camps. Safety brought us to KISS and they work phenomenally! The barriers were very easy to install, absorb impact the way they're supposed to, and I expect to get 10 to 20 years of use out of them. I would definitely recommend KISS Barriers to other camps or karting facilities.
Camp Playland
Matt Dudics - Director
---
Through my background in karting, I knew KISS Barriers from other tracks. So, when we first built the kart track 10 years ago, I chose KISS—They're mobile, sectional, and work well for karts. Since then, we've placed two more orders for new track additions. Over the last decade we've only lost about 5 barriers to breakage. Not only are they durable, but they're safer. And safety trumps everything.
Autobahn Country Club
Mike Gritter - Track Operations Manager
---
When I joined MCC several years ago I took over management of the safety aspect to ensure everything was up to par. The kart track already had some KISS Barriers and, after conducting a safety study, I identified other areas that needed KISS protection as well. Additionally, we move some barriers around to compensate for different dangers in various scenarios. The KISS system performs well, contains karts and reduces damage. Plus, even though the barriers have been exposed outside for years, they're holding up great. Maybe one a year will break, if that.
Motorsports Country Club
Shawn Bayliff - Club Manager & Race Pro
---
Safety was my top priority when I was hired to complete the track build out. Three different barricades were already in use, however I soon learned the downfalls of two of the brands and the positive aspects of the KISS Barriers. They're specifically designed to absorb energy with each unit linked together, which pulls like a chain. The pin system also makes them more durable— KISS has held up really well even after sitting outside for several years. We bought more KISS Barriers for buffers to slow down out-of-control karts, and to transport to the St. Louis Auto Show for the annual kart race in the Edward Jones Dome. Moving forward, I wouldn't purchase any other barrier system—Over time as the other barrier brands break, they'll be replaced with KISS.
Kartplex at Gateway Motorsports Park
Keith Scharf - General Manager
---