Temporary Tracks
ISS Portable Barriers make Temporary Tracks as safe as Permanent Tracks.
TOP 6 GOALS: Reduce Injuries and Damage; Save Time and Labor; Increase Versatility and Coverage, Decrease Replacement Costs; Lower Expenses; Improve Presentation
Why ISS Safety Barriers are so portable and flexible.
ISS Barriers were designed with mobility in mind. Extremely lightweight when empty, with plug-and-play connections, ISS is the easiest system to assemble or remove—One thousand linear feet of ProLink Barriers can be deployed by 2 workers in just one day. If replacement is ever required, it only takes one worker 10 minutes to do the job
The Boston PAL Grand Prix set up 1320' street course with 800 KISS Barriers and 80 ProLink Barriers using 9 workers in 3-1/2 hours
ISS Barriers are also conveniently stackable to almost any height for efficient storage and are designed to accommodate a fork-lift if needed. And at just 73 lbs. when empty, shipping is very cost effective
ISS is the only barrier system that can be arranged in literally any configuration, including curves and 90-degree angles, or either direction of travel, providing maximum versatility for any track design
Why ISS Safety Barriers protect so well.
ISS Barriers are designed to yield on impact, progressively retarding vehicle speed and cushioning the shock so there's less likelihood of blunt force trauma to drivers or major damage to vehicles
On severe impacts, the cumulative pull of the connected barriers creates a "snaking effect," collectively causing deceleration. When buffering, ISS Barriers keep drivers from reaching a permanent hard wall
ISS' unique linking system holds the barriers in place when struck and keeps them from scattering, which minimizes hazardous debris
Anchoring pins provide additional stabilization that reduces bounce-backs into traffic, lowering multi-vehicle collisions
ISS is the only barrier system that offers ballast modification for varying levels of resistance. Ballast can be adjusted based on impact load, speed and weight at different locations on a track when intermittent barriers are filled with sand or water
Exclusive ballast system also increases stability and makes vehicles less likely to submarine beneath the barriers
ISS Barriers offer bright colors and directional signage options, which help raise visibility in key areas, further increasing protection
Because ISS is the only Barrier Systems that's versatile enough to be used in any configuration, it provides total protection for drivers everywhere on a track, including filling coverage gaps where other barricades can't
Why ISS Safety Barriers make financial sense.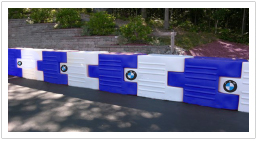 ISS Barriers are the lowest cost system available today—Only about $70 per linear foot including installation and water
ISS Barriers can raise track safety ratings, which may lower insurance premiums
ISS Barriers are completely portable, easy to transport, fast to install, and simple to store, which saves time and labor
Made from stronger, thicker composite plastic (in some cases twice as thick as competitors), with exclusive impact ridges to reinforce structural integrity and a modifiable ballast system that also increases durability, ISS Barriers are tough enough to last, substantially reducing replacement costs
ISS Barriers are specifically designed to support advertising and sponsorship banners, which generates additional income
ISS Barriers can be customized with graphics, embedded logos, and come in a full range of color combinations to coordinate with track branding. Tracks appear cleaner, more up-to-date and attractive on camera
Case Study – Stadium Super Trucks
Robby Gordon's Stadium SuperTrucks is an off-road racing series that tours the country. To succeed, the series needed to set up a safe truck racing track in a stadium, then move everything to the next city and set up again in a different arena. Robby Gordon chose ISS not only because they're the most portable, allowing for quick set-up and fast wall repair if necessary, but the barriers have proven to keep both drivers and spectators safe during every action-packed event.
Case Study – Sportscar Vintage Racing Association (SVRA)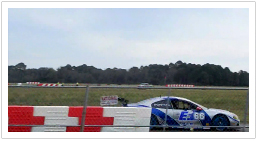 The Sportscar Vintage Racing Association (SVRA) introduced the first Vintage Racing Gran Prix at Amelia Island, Florida where they constructed a 2.1-mile course from scratch at the Fernandina Beach Airport. With an active runway on site, protecting drivers and spectators was paramount, so using hay bales as the only barricades wasn't an option. SVRA chose ISS ProLink's proven barrier technology to separate the racetrack from fans, keep drivers safe by holding them on track, and minimize potential damage to vintage vehicles. With just one day for setup, the barriers were quickly and easily installed by just two crewmembers. SVRA plans to reuse the barriers again and again over the next 5 years.
Applications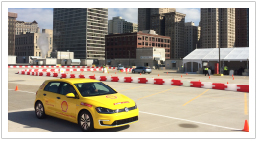 Temporary Tracks – On asphalt, indoors or out, for Cars, Motorcycles, Trucks, or Bicycles
Street Courses and other off-track events
Vehicle Manufacturer Demos
Gymkhanas – Replace cones to clearly delineate course for better driver line of site, as well as adding signage directions and branding on barriers
Athletic Facilities, Sports Fields and Stadiums for Extreme sports and Special Events for Player Protection, Crowd Control, Traffic Management, Pedestrian and Spectator safety

ONIKC is the longest-running and largest indoor kart race event in the country, with over 1700 entrants. The Impact Safety System KISS Barriers we bought several years ago have been hit by least 10,000 racers, including heavy high horse power karts, so they've really taken a licking. Even so, we've only had 2 or 3 barriers sacrifice themselves to save people. if a barrier does break, we simply take it out and put in another one. The karts never submarine or climb over them. Sometimes we hold events at other arenas and we just pack the barriers in our trailer. Before ISS, we tried everything and could find a suitable barrier. I don't know what we'd do without them. There are lots of other tracks that could really use a barrier system like this.

O'REILLY INTERNATIONAL INDOOR KART CHAMPIONSHIPS (ONIKC)
Stadium SuperTrucks



There really was no good alternative to Impact Safety Systems for us. They had the only barriers that could work for our stadium race series.

Robby Gordon
Stadium SuperTrucks



We purchased Impact Safety Systems Barriers on behalf of our client Shell for its North American Eco Marathon events. We used ISS ProLink Barriers to line the streets and separate the marathon track from the public. For the Rooftop Drive portion of the event, we used ISSKISS Barriers to create a clearly visible course. Straightforward pin connections made them so easy to work with andwe simply filled every third barrier with water to anchor against the wind. In between events, Shell loaned the KISS barriers to Fiat/Chrysler for their "What's New" mediademonstration at FCA's Chelsea Proving Grounds. When not in use, the barriers were conveniently stacked in our storage facility. Upon completion of the three-year series of Eco Marathon events, Shell donated all the barriers to the Henry Ford Museum for its annual Maker Faire. Suffice to say, the ISS Barriers were well worth the investment.

James Gingell, Executive Vice President
EVENT SOLLUTIONS INTERNATIONAL (ESI)



After doing our homework, we chose Impact Safety Systems (ISS) ProLink barriers. There were alternatives, including using cement, renting or buying analogous interlocking barriers from other sources, but they simply didn't meet our safety standards. And when we factored in delivery, cost, and deployment time, ISS Prolink was far and away the smartest choice.

Tony Parella, President
SVRA
DOWNLOAD


Your Free Impact Safety Systems Brochure
Fill up this form to download: