MOTORCYCLE TRACKS
ISS is the standard in superior protection for motorcycle racing.
TOP 6 GOALS: Reduce Injuries and Damage; Save Time and Labor; Increase Versatility and Coverage, Decrease Replacement Costs; Lower Expenses; Improve Presentation
Motorcycle Track Challenges
Motorcycle courses present a unique set of safety challenges. They need a crash barrier solution that stands up to the high-speed impact of a heavy bike, yet is forgiving enough to provide maximum protection for riders and their motorcycles. They also need to keep spectators safe when motorcycles veer off-course. And, with motorcycle test drives, there's the challenge of protecting inexperienced riders from themselves.
Why the 3-Part ISS Barrier System protects Riders so well.
ProLink, KISS and SoftLink offer the ability to adapt protection levels for different locations on the track using a combination of firm, medium or soft Safety Barriers
SoftLink Barriers are made from a softer composite that not only absorbs energy, but also provides extra cushion, so if riders are thrown from their bikes, there's less risk of injury
ISS Barriers are designed to yield on impact, progressively retarding bike speed so there's less likelihood of blunt force trauma to riders or major damage to motorcycles
The unique linking system holds the barriers in place when struck and keeps them from scattering, which minimizes hazardous debris
Anchoring pins provide additional stabilization that reduces bounce-backs into traffic, lowering multi-bike collisions
ISS is the only barrier systems that offers ballast modification for varying levels of resistance. Ballast can be adjusted based on impact load, speed and weight of motorcycles at different locations on a track when intermittent barriers are filled with sand or water
Exclusive ballast system also increases stability and makes bikes less likely to submarine beneath the barriers
Because ISS is the only Barrier System that's versatile enough to be used in any configuration, it provides total protection for riders everywhere on a track, including filling coverage gaps where other barricades can't
ISS Barriers offer bright colors and directional signage options, which help raise visibility in key areas, further increasing protection
The combination of these three barrier technologies provides an optimized safety solution to mitigate impact for machines and riders
Why ISS Safety Barriers make financial sense.
ISS Barriers are the lowest cost system available today
ISS Barriers can raise track safety ratings, which may lower insurance premiums
ISS is the only barrier system that can be arranged in literally any configuration, including curves and 90-degree angles, or either direction of travel, for maximum flexibility of use
Extremely lightweight with plug-and-play connections, ISS is the easiest system to assemble or remove with minimal manpower, which save time and labor
Made from stronger, thicker composite plastic (in some cases twice as thick as competitors), with exclusive impact ridges to reinforce structural integrity and a modifiable ballast system that also increases durability, ISS Barriers are tough enough to last, substantially reducing replacement costs
ISS Barriers are specifically designed to support advertising and sponsorship banners, which generates additional income
ISS Barriers can be customized with graphics, embedded logos, and come in a full range of color combinations to coordinate with track branding. Tracks appear cleaner, more up-to-date and attractive on camera
Case Study – Inde Motorsports Ranch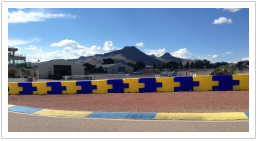 Inde Motorsport Ranch (IMR) is a first class, members-only raceway and resort in the high desert of Wilcox, Arizona, featuring a challenging 2.75-mile road course with more than 30 configurations. Vehicles, from motorcycles to streetcars, race 365 days a year at speeds between 140-175 MPH. Tire and cement walls had always been the crash barrier default. When the IMR Director of Operation's motorcycle and body were saved after hitting ISS Barriers at another track, he decided to break away from antiquated standards and install ProLink Barriers on high speed turns and in the highest impact areas to protect racers from concrete walls. IMR is now one of the only tracks in the country where members can request to change the course direction and be equally safe both ways.
Case Study: Harley Davidson
Uncomfortable with having inexperienced motorcycle riders test drive bikes on city streets, Harley Davidson of Scottsdale, Arizona turned its parking lot space behind the dealership into a test and demonstration track using both ProLink and KISS Barriers. Customers love it – and Harley Davidson of Scottsdale loves reducing the risk of motorcycle test drives.
Applications
Road Racing, Motocross and Supercross
Off Road Racing
Short Track and Speedway
Cross Country and Enduro
Temporary Tracks, Test Tracks and Gymkhanas

My body and my bike were saved by a type of plastic barrier I had never seen before. I asked around and found Impact Safety Systems. After further investigation it became clear that, not only were these barriers more cost-effective, easier and much better looking but, above all, they delivered the maximum level of safety possible. I should know…I tested them with my own life!

John Mabry, Director of Operations
Inde Motorsports Ranch
DOWNLOAD


Your Free Impact Safety Systems Brochure
Fill up this form to download: