Why Impact Safety Systems?
Simpler, safer barrier solutions
If you want an easier, safer, more cost-effective solution to a safety challenge, Impact Safety Barriers make the choice simple. Our barriers have been tested and proven on racetracks, kart tracks and motorcycle test tracks. They are just as effective in stadiums and airports, at mines and jobsites of all types. In fact, with their flexibility and portability, Impact Safety Barriers adapt to safety challenges in a wide range of applications.
Impact Safety Barriers are lightweight when empty. This creates a portable barrier system that is easy to transport… fast to install… and quick to replace when necessary. Impact Safety Barriers stand up to impacts, while absorbing energy and distributing it down a line of connected barriers. The result? A "softer landing" that minimizes damage more effectively than any other safety system available. In summary, Impact Safety Systems save time, save money and increase safety in every application.
Featured Video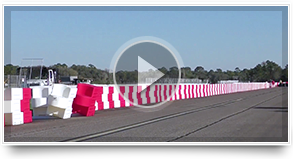 Thunderbolt Racing Richmond VA
News
SVRA Selects Impact Safety Systems Barriers for Inaugural Amelia Island Vintage Gran Prix



Old Cars Weekly
Products
Impact Safety Systems offers 2 sizes and 3 types of safety barriers.


ProLink Barriers are the portable barrier alternative to jersey barriers and tire walls – quick and easy to transport, deploy and replace when hit... allowing any configuration including curves and 90° angles… providing greater safety than concrete barriers. For race tracks and other safety challenges requiring large size barriers.
KISS Barriers offer the same patented technology and ribbed-wall, sized for kart racing – and known as the world standard for karting safety. For kart tracks.
SoftLink Barriers, which come in ProLink and KISS Barrier sizes, have a softer wall, specifically to protect athletes who come into contact with the barriers at high speed. For motorcycle, motocross, bicycle and street luge tracks, plus athletic fields of all types.
Applications
From kart safety to racetrack safety... as temporary barriers or permanent installations... for playing fields and stadiums…crowd and traffic control... at airports... on roads... at construction sites and at mines…Impact Safety barriers provide the simplest, safest barrier solution available anywhere. Find out more about safety barriers for:
FOR A FREE CONSULT, CALL:
(781) 752-1220
Call us any time or fill out the form below and we'll get back to you. Thank you.

Contact Us Form:
As a race car driver, I've been in accidents. As a track owner, I've seen a lot of crashes. I worked to develop a barrier system that would add safety to a track – and also be fast and easy to deploy. I think you'll agree that the result is so much better for both owners and drivers.
Richard 'RJ' Valentine President
Impact Safety Systems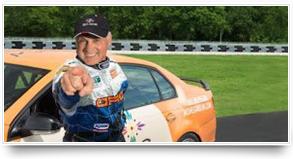 What's the difference between tire walls and ISS Barriers? Tires don't give. In fact, they act like concrete, which causes major damage to both cars and drivers.